About Saltwater Video Productions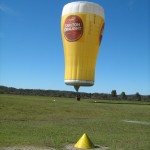 Saltwater Video Productions was established in Coffs Harbour in 1993 and is owned and operated by Michael Golsby and his wife Kylie.
Michael has been a professional television cameraman for over 20 years. He worked for television station Channel 10 for over 6 years and then with Prime Television for 14 years, giving him a vast knowledge of operating broadcast equipment. Although working for television stations was a rewarding experience, he wanted to put that knowledge into his own business to give his clients the best quality product possible.
Michael has an exceptional eye for video knowing the best angles to take given the lighting conditions, background, scenery, surrounding noise and other factors which may affect or enhance a particular location. This knowledge has been gained from many years in the television and video industry where Michael has been exposed to a myriad of different situations.
Whether it is in controlled conditions such as in studios or conference rooms with scripts and running sheets to uncontrolled conditions such as outdoor weddings or events where the weather is likely to change, we have the expertise and equipment to give you that special video that you are  after. That is why we have the latest in fully digital broadcast cameras, sound recording equipment and non linear computer editing gear.
From a brthday party to a polished promotional or corporate DVD, from a loving and emotive wedding to a concert or sporting event, Saltwater Video Productions is everthing video.  We provide a high quality product at a value-for-money rate and that is why we have clients coming back to us time and time again. We are proud of our repeat business and clients referred to us by our respected colleagues in the industry.
Contact us today to talk about your special video project and let's see how we can help to promote your product or capture your special event and preserve the memories forever.